About the Nissan Frontier in Decatur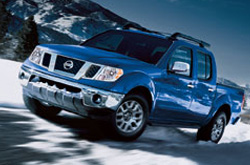 We take the time to write research and reviews on the Nissan Frontier, because we know your next Frontier purchase is important. We take our mission to furnish the most skillful reviews written by Nissan automotive writers - it's just another thing that makes us the stellar Nissan retailer in Decatur. Filled with beneficial material and specs, each article gives you full access to everything the Nissan Frontier has to offer. As always, Miles Nissan is available seven days a week to answer any questions you might have. Don't hesitate to call and speak with a representative.
360 Degree Tour of the Nissan Frontier Compact Truck
2013 Frontier vs the Competition - Compare Features & Specs
Comparing the 2013 Nissan Frontier alongside against vehicles like the 2013 Honda Ridgeline, GMC Canyon and the Toyota Tacoma, and you will spot that the 2013 Frontier beats out the competition in gobs areas. View our bullets to see why!
2013 Nissan Frontier Seats: 5 passengers
2013 Nissan Frontier 0-60 MPH in 7.4 seconds
2013 Nissan Frontier Body Style(s): Compact Truck
2013 Nissan Frontier MPG: 16 city / 20 highway
2013 Nissan Frontier Cargo Space: 87.7 cubic feet
2013 Nissan Frontier Colors: Metallic Blue, Red Brick, Super Black, etc...
2013 Nissan Frontier MSRP: $19,260
Learn About the 2013 Nissan Frontier's New Features
Engine Specs: See What's Under the 2013 Frontier's Hood
Decatur Nissan Frontier Owner Warranty Info & Safety
Our Nissan Auto Repair Center: Helping You Maintain Your Investment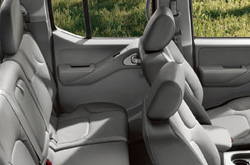 To get your Nissan Frontier worked on by phenomenal service techs, you don't need to roam far. Our Decatur auto service center is a small ride away and we offer a long warranty on every job. The wizards at our Illinois Nissan service center can be trusted to keep your Frontier in good physical shape for years to come. From arduous undertakings like transmission repair to less tedious repairs like air filter replacement and simple ordinary oil and filter changes, our Nissan repair team do it all. It's simple as 123: If you want wizards service and cheap repair prices in Decatur, make Miles Nissan your first stop for Nissan vehicle maintenance. Check out our service specials by clicking on the link below.